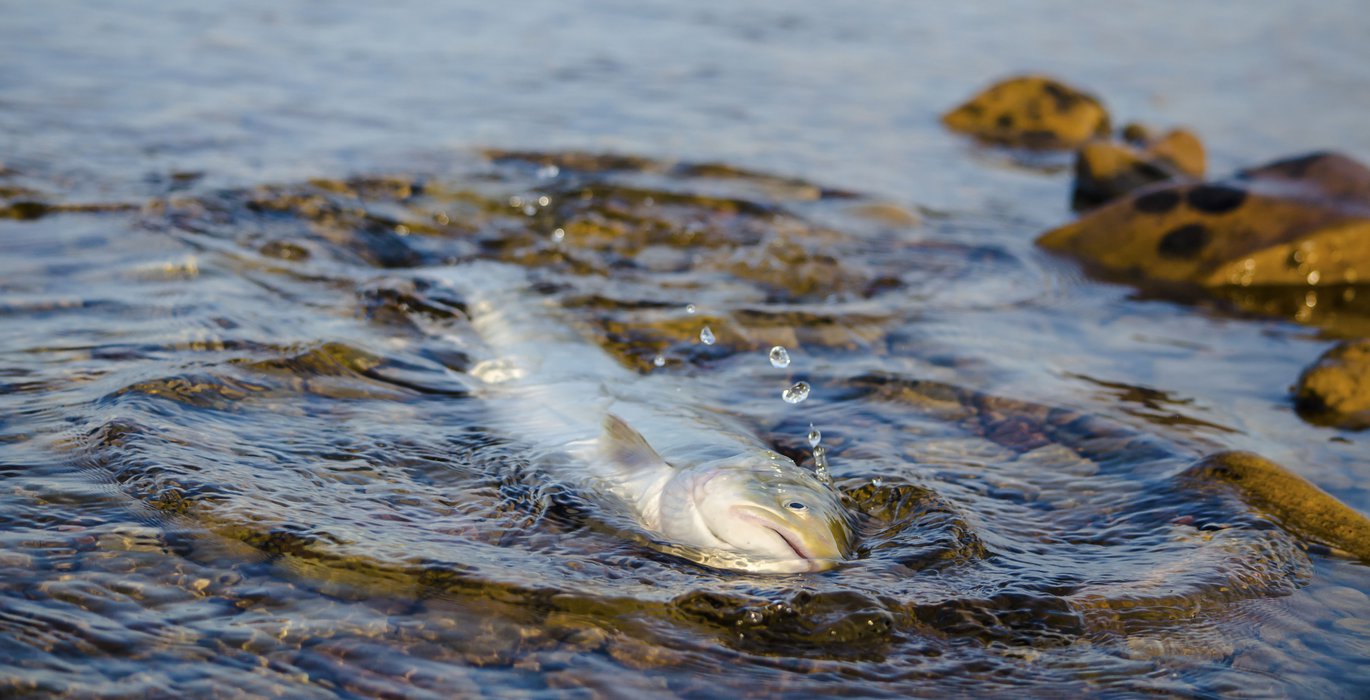 igratory Arctic char are, and always have been, an integral part of life for residents of the Kitikmeot region of Nunavut. As a result of climate change the Canadian Arctic is facing rapid warming, over twice the average global rate, leaving us hastily trying to understand how these invaluable fish will respond and what we can do ensure their persistence for future generations.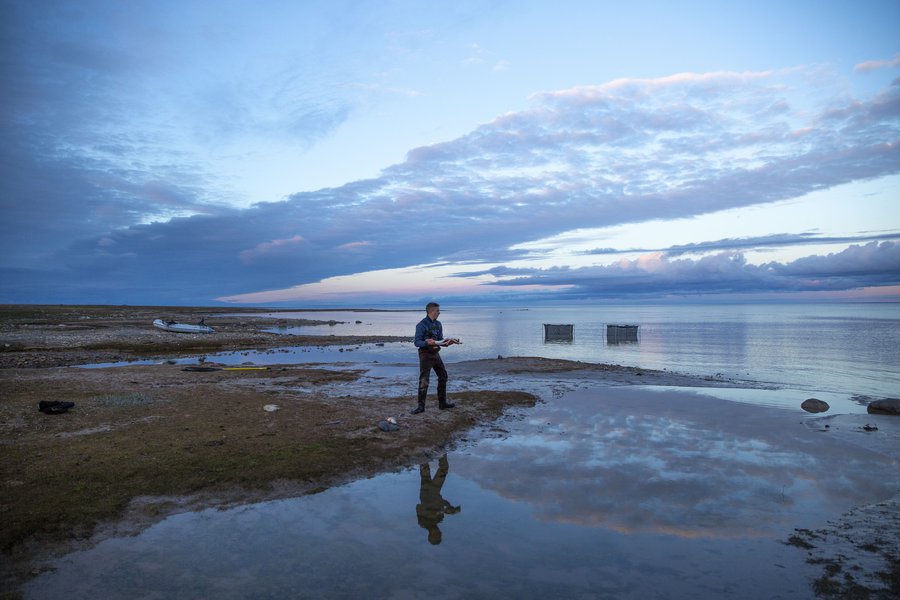 Eric Schimnowski, son of Arctic Research Foundation CEO Adrian Schimnowski, with a freshly caught Arctic char at a research site in Byron Bay, Nunavut. Photo by Zachary Prong.
For those not familiar with Arctic char, they are relatives of Pacific and Atlantic salmon and share many characteristics, not least, their ability to undertake impressive migrations and their rich red meat. They spawn, spend their early life in lakes, and once they reach a sufficient size they migrate out into the ocean in spring or early summer to capitalize on the relatively high abundance of food. They return in the late summer or fall and then repeat this migration cycle most years thereafter, some until they reach close to 40 years old.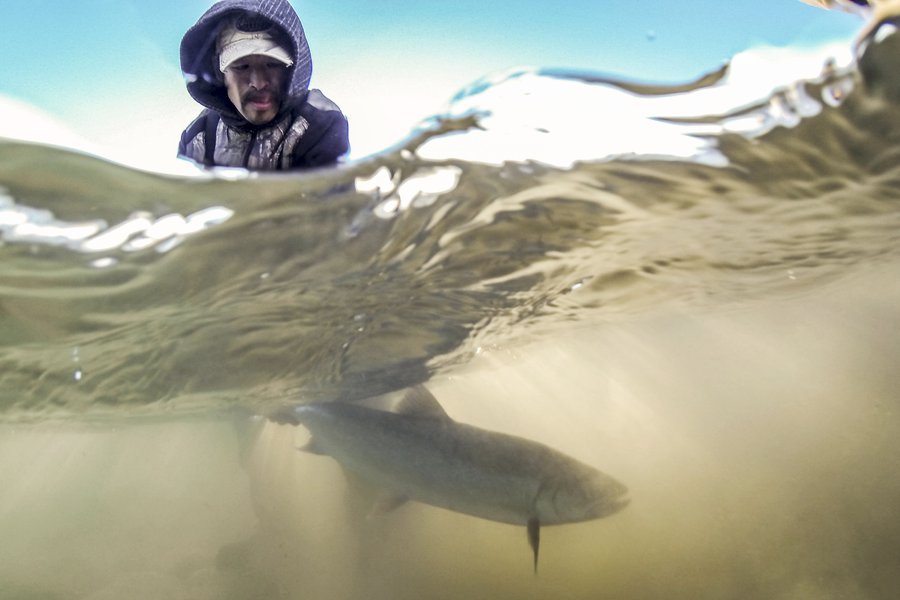 Kevin Kanayok, a seasoned field hand, releases a fish in Byron Bay. Photo by Matthew Gilbert.
My research is focused on how rising water temperatures will affect the ability of Kitikmeot char to carry out strenuous activities, like their return, up-river migration. I'm focused specifically on their return migration because it is likely the most physically demanding activity char undertake in their lives and it also tends to be the period where they encounter the warmest temperatures. We know from studies in other related fish like salmon, that fish tend to have a range of temperatures over which they can adequately take in, distribute, and use oxygen to fuel various activities. However, above this range the performance of their heart becomes limited and their capacity for exercise declines, which can impair migration. These limitations are thought to have contributed to the renowned declines in sockeye salmon populations in the Canadian Pacific and consequently, have received a lot of attention from scientists and the general public alike. Similar temperature ranges have not been characterized in Kitikmeot Arctic char, but will likely contribute to how well they will cope with warmer water. To address this critical knowledge gap I am carrying out experiments over a broad range of temperatures to measure the maximum performance of their hearts and their ability to uptake and use oxygen. To further improve our ability to predict how char across the Kitikmeot will respond to rising water temperatures I am studying many populations in the region. These populations were selected in part, based on their immense importance to local commercial and subsistence fisheries.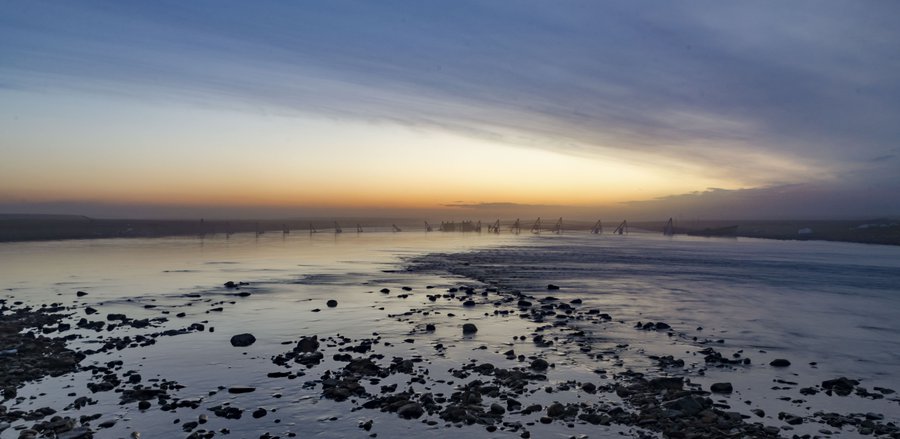 A commerical fishery in Nunavut. Photo by Matthew Gilbert.
This type of physiological research is almost always carried out in a controlled laboratory setting. At our remote Arctic field sites, summer access is restricted to boats or floatplanes, which makes setting up a reliable mobile lab with a stable power supply one of our main logistical challenges. These challenges have historically limited the types of techniques people use at remote sites and have required us to work out of wall tents with equipment supported by small solar power systems and generators. Over the past two years I have been using a mobile aquatics research laboratory built and designed by the Arctic Research Foundation for my research based out of Cambridge Bay and in the spring of 2018 we mobilized one of the labs by Cat-train over the sea-ice to Byron Bay, 80km west.
Matthew Gilbert at the Byron Bay field site. Photo by Zachary Prong.

Kevin Kanayok and Matthew Gilbert inside the mobile lab built and operated by the Arctic Research Foundation. Photo by Zachary Prong.

Arctic char hearts. Photo by Matthew Gilbert.

The mobile lab at the Byron Bay field site. Photo by Zachary Prong.
With the help of my seasoned field-hand, Kevin Kanayok, I recently used the Byron Bay lab to successfully complete data collection on a commercially harvested char population in the area. Leading into this camp, after days of weather delays another field assistant backed out early in the morning on the day we were finally flying. Having worked with colleagues in the past, Kevin was my first call. Sure enough, he took my invite to come to camp in stride and was ready to be out on the land for two weeks with only three hours notice! At times we battled near gale force winds, temperatures below freezing and had visits from a wary grizzly, a lone wolf, and a pesky weasel. All this to say, uncertainty is part and parcel when it comes to Arctic fieldwork. It is now midnight and I am writing this at the Canadian High Arctic Research Station as I prepare to fly out tomorrow to Jayko Lake, 80km northeast of Cambridge Bay for another 10 days on the land. I'll be working with Darcy Kanayok, Kevin's brother, and will provide an update on our findings in the coming months.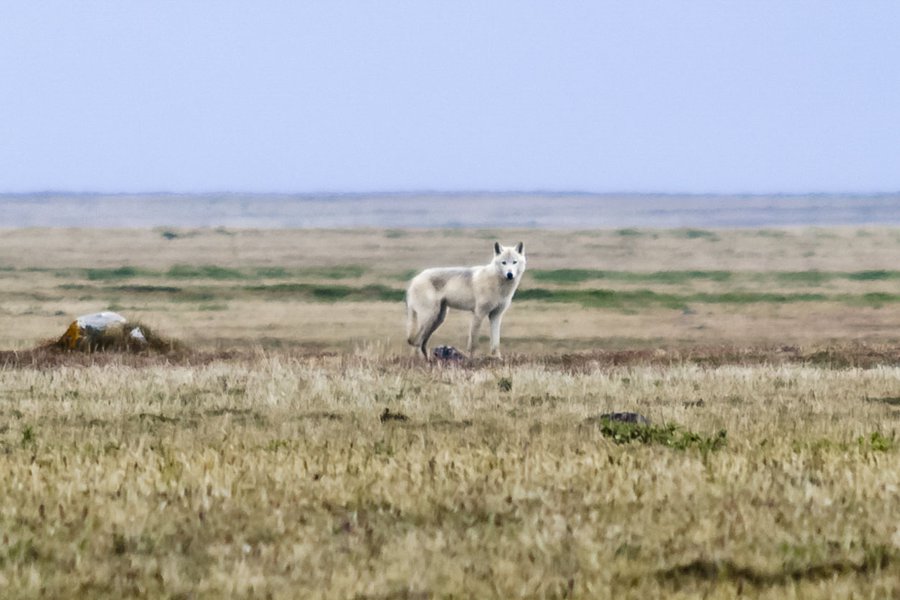 A lone wolf watches over the camp. Photo by Matthew Gilbert.
Previous Article
Photo of the Week
Next Article
Beluga Cam Returns
---