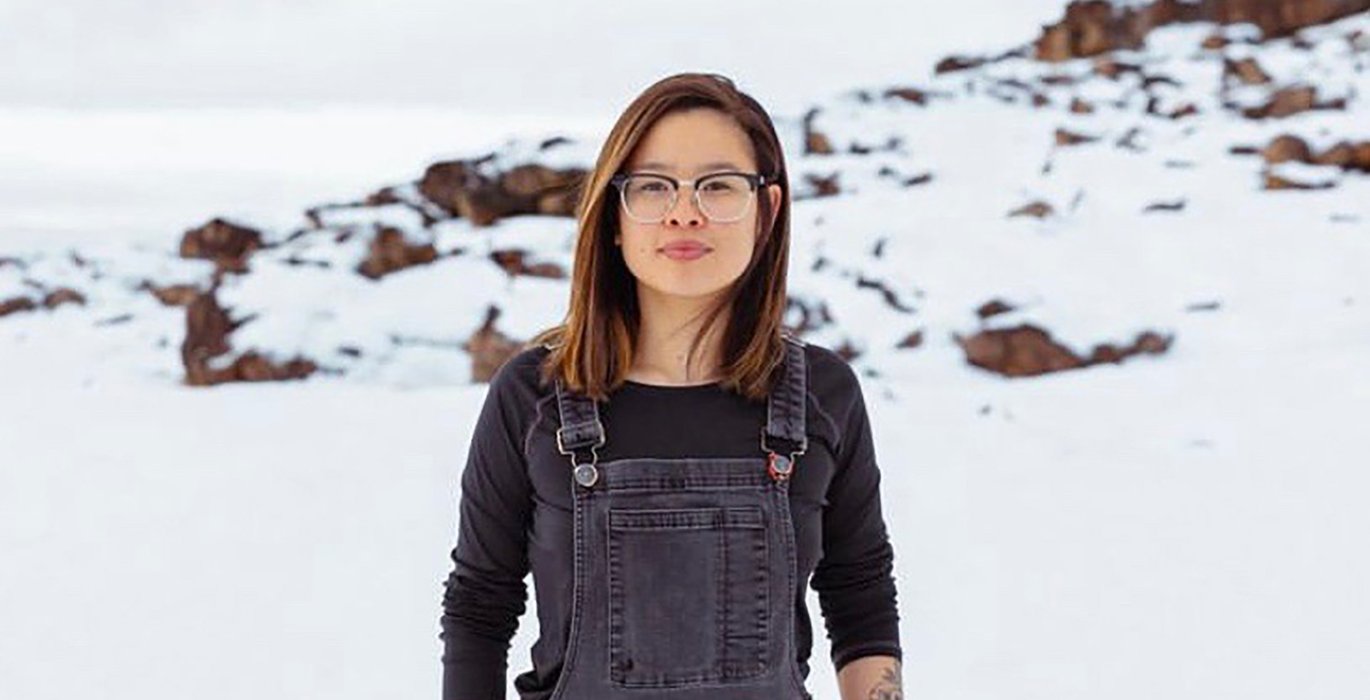 Annie Buscemi has captured the hearts of many through her social media channels and daily affirmations. The Iqaluit resident has taken a unique approach to addressing mental health issues by sharing Inuit-specific reasons to stay alive.
Annie began posting daily affirmations in 2020, as a way to lift her own spirits after an injury prevented her from continuing work as an apprentice electrician and she continues to inspire her followers years later. Little did she know that this simple act of spreading positivity and sharing the essence of Inuit culture would change her life and touch the hearts of many.
Through her videos, Annie provides insights into the beauty of Inuit traditions and lifestyle. Her TikTok and Instagram accounts have become platforms of inspiration, gaining close to 30,000 followers on TikTok and over 9,000 on Instagram. This incredible response and the impact her content has had on the Inuit community led her to receive the prestigious Young Inuk Woman of the Year Award from Pauktuutit Women of Canada in 2021.
Buscemi spoke with Arctic Focus about the power of spreading positivity, embracing one's culture, and finding solace in the small joys of life.
This interview was edited for clarity and length.
Q: How did you get started with your social media channels and posting videos?
A: Yeah. So all of this started because I'm an apprentice electrician and unfortunately I was injured and I was unable to work for a really long time for about seven months.
I've always kind of struggled with my mental health and the thought of not being able to work and not doing anything just kind of freaked me out and I needed something to wake up for. I decided to start listing reasons to stay alive – Inuit-specific reasons to stay alive. And I wanted to start sharing it [with] other people, [especially during the pandemic.]
We all felt kind of isolated, and just to share a little bit of positivity, I found a lot of value in that and as I continued posting videos, the more attention it got. I feel like it resonates with a lot of people and it made me so happy, and it still does!
Q: How has making these videos helped you specifically?
A: It changed my life. Like, I just kind of seen the world kind of through a different lens. And I was constantly thinking about reasons, just looking around and finding the beauty in all and in my home community. And it's changed my life I feel for that better.
There was someone who mentioned to me 'feeling is healing' and I was like, whoa, we feel to heal. It's so important to be able to allow your feelings so that they can be released.
Q: People who are watching these videos, what do you want them to take away from it?
A: I just enjoy sharing the positivity, and I had never really thought about how people were going to take it. I didn't really think about it. I just kind of went with the flow and just kind of followed. You know, it was all for me. Every reason that I listed was for me to help keep my spirits up.
Q: Do you have a favorite video?
A: Yeah, for sure. So one of my favourite videos is the concept of a Rainbow, and to see yourself as a rainbow. It's beautiful! I like the idea of the sun and the rain, it's like, to make such a beautiful thing. The circle of a rainbow, because you really can only see the arch of it, but a rainbow, especially out in space, it's a full circle.
So I kind of like that concept of looking at yourself like a rainbow and how the world sees you, and then how you see yourself, and it's all connected. It's all one
Q: Why is it so important to have Inuit-specific reasons to stay alive?
A: It's important for me to list Inuit-specific reasons because there's a lot of pain. Growing up here, growing up in our communities, you're surrounded by suicide and we have one of the highest suicide rates in the world, as Inuit. And it's important to kind of go back to our roots and to find the beauty in our culture because we do have, as Inuit with our IQ principles, the resources to battle things like anxiety and depression and playing games. The Inuit culture, I think, worked really well for Inuit to combat things, to feel your emotions. It's important for me to go back to our roots and ask where does the pain and where does the trauma come from?
Q: You've reached a lot of young people, a lot of young Inuit people. What would you want to say to those people if you could speak to all of them in one room?
A: Yeah. So one of the biggest things I like to share with people is just to be patient with yourself and to allow yourself to feel your feelings.
There was someone who mentioned to me 'feeling is healing' and I was like, whoa, we feel to heal. It's so important to be able to allow your feelings so that they can be released.
Previous Article
Antarctic tipping points: the irreversible changes to come if we fail to keep warming below 2℃
Next Article
When Greenland was green: Ancient soil from beneath a mile of ice offers warnings for the future
---